Jan 30, 2020 • 34M
Episode 10: The Power of Play (with guest Sherry Richert Belul)
Emerging Form is a podcast about the creative process in which a journalist (Christie Aschwanden) and a poet (Rosemerry Wahtola Trommer) discuss creative conundrums over wine. Each episode concludes with a game of two questions in which a guest joins in to help answer questions about the week's topic. Season one guests include poets, novelists, journalists, a song writer, a circus performer, a sketch artist and a winemaker.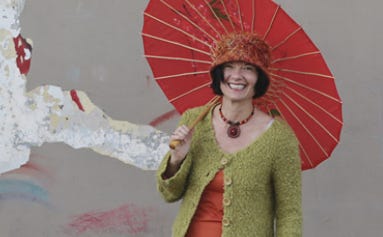 What does play have to do with creativity? Could a hula hoop help you finish your book project? In this episode, we argue about what is play, anyway—is it something you set time aside for? Or something that is always available to you? And how might it help your creative life? Then we are joined by author and happiness coach Sherry Richert Belul to get her take on our two questions: 1) How does play inform your creative process? and 2) What's an example of a project that has been shaped by play? We'd love your feedback on these questions, too!
Episode Notes:
Meet our new production wizard, Rob Dozier
Play: How it shapes the brain, opens the imagination and invigorates the soul by Stuart Brown, M.D.
Playing at Work: Organizational Play as a Facilitator of Creativity, dissertation by Samuel West
Christie's spam poetry on Last Word on Nothing
Rosemerry's collaborative book of three-line poems, Even Now
Snark Week: The Wrath of the Sloth on Last Word on Nothing
Slaughterhouse Five, by Kurt Vonnegut
Sherry Richert Belul and Simply Celebrate
Say It Now: 33 ways to say I love you to the most important people in your life
Secret Agents of Change Facebook Group
***
Wild Rose Shops for a Bathing Suit
         —Rosemerry Wahtola Trommer
Not the full-coverage shorts.
Not the black one-piece
with the ruffle around the hips.
She wants to show off some skin.
She doesn't care who's looking.
Or who's not.
She's got flesh and a lot of it.
A woman needs weight in the world.
Damn, she is getting hot just thinking
about the way the sun likes to touch her.
She finds a strapless bikini
in her favorite color, brilliant magenta.
Barely a bottom. Perfect.
Another suit in hunter orange.
She plans to be swimming with sharks
and wants them to know she is there.
God, she loves shopping for bathing suits.
She could do it all day with that long tri-fold mirror
that knows she gives squat
about who's the loveliest of all,
but dang, how could she not notice
how great it is to have hips, like hers,
how fine to have some real meat to swing around.